More on Robert Hall Sr.
Written by Nathan Finn, Posted in Conferences, History, Theology
Tomorrow, I'll give my plenary address "Robert Hall Sr. (1728-1791): Andrew Fuller's Mentor" at the Sixth Annual Conference of the Andrew Fuller Center for Baptist Studies at Southern Seminary. I blogged on Hall earlier this week. I thought I'd post about him one more time before the conference.
The following short quotations, written by nineteenth-century pastor-historians, express how the following generation of British Baptist pastors remembered the life and ministry of Robert Hall Sr.
He was the centre of attraction to a large circle of ministers and Christian friends, who went to Arnsby for instruction and advice, as the people once resorted to the prophet who dwelt at Shiloh. Both Carey and Fuller had their theological learning from this school, which continued for many years to diffuse a spirit of enquiry, and contributed not a little to raise them to that eminence in the christian [sic] church which they afterwards attained.[1]

Robert Hall lives long in the embalmed remembrance of all who knew him. And, as almost threescore years have ran their eventful round since the day of his departure, perhaps every one of his brethren, then connected with him in the ministry, and particularly in that association of churches with whom he was so intimately united, have also ceased from their labours. Nevertheless, the revival and reprinting of this Memoir, may not only prove interesting to the present generation, but may also serve to stir up the ministers of the everlasting gospel, to "follow him as he followed Christ."[2]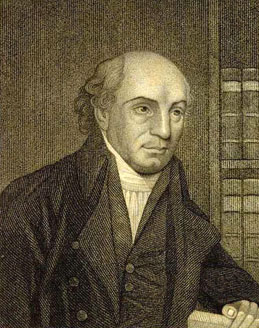 William Carey was very close to Hall, considering him a key mentor. This is what Carey said of the influence of Hall's book Help to Zion's Travellers (1781) on his own thinking.
Mr. Skinner one day made me a present of Mr. Hall's Help to Zion's Travellers; in which I found all that arranged and illustrated which I had been so long picking up by scraps. I do not remember ever to have read any book with such raptures as I did that. If it was poison, as some then said, it was so sweet to me that I drank it greedily to the bottom of the cup; and I rejoice to say, that those doctrines are the choice of my heart to this day.[3]
The following quote is Hall's written prayer ten days after the death of his first wife. I think it speaks to his personal godliness and his willingness to trust the Lord, even in the midst of suffering.
Oh that this may be a year of mercy to my person, my family, the neighbourhood, the church and the state. Lord keep me pure, make me fervent in thy work, faithful to thy cause and active in it. Prepare goodness for me and mine. May we have peace with thee and one another. Give us near access, fervent love, and a constant fear of thee. Be not a terror to me, oh Lord. Withdraw thy hand from me, as to continued or renewed troubles; but as to afflictions, thy will be done. Keep me, oh Lord, keep me and mine from sin, whatever we may suffer. Bless thy word, oh Lord, in the neighbouring villages this year. May the church at Arnsby prosper, be fruitful, peacaeable [sic], humble and holy. Lord, work by thy poor instrument, R. Hall.[4]
——————————————————–
[1] J.W. Morris, "Memoir of the Rev. Robert Hall, Arnsby, Leicestershire," in The Complete Works of the Late Rev. Robert Hall, ed. J.W. Morris (London: W. Simpkin and R. Marshall, 1828), p. 37.
[2] John Ryland, Memoirs of The Rev. Robert Hall of Arnsby, with a Brief History of the Baptist Church at Arnsby, Leicestershire, ed. J.A. Jones (London: James Paul, 1850), p. 23. Emphasis in original.
[3] Quoted in Eustace Carey, Memoir of William Carey, D.D. (Boston: Gould, Kendall and Lincoln, 1836), p. 11.
[4] Morris, "Memoir of the Rev. Robert Hall," p. 26.