Written by Nathan Finn, Posted in History, Theology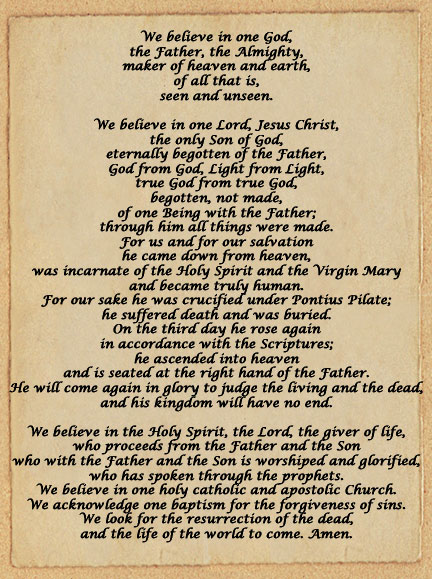 I was recently speaking with a faculty colleague and fellow church member about the so-called worship wars between advocates of "traditional" and "contemporary" music. I confessed to him that I'm relatively ambivalent about the music debate. I love to sing a great hymn of the faith accompanied by a pipe organ and I love to sing newer worship song accompanied by guitars and drums. As long as the lyrics are sound, the tune is singable, and the instruments don't overwhelm the voices of the congregation, I'm good to go.
While most Baptists (and many other Christians) want to discuss music styles, I told him that I'm far more interested in matters of liturgy. Though I'm not "liturgical" in the way my Episcopal friends are, I'm an advocate of Baptists reciting the Nicene and Apostles' Creeds as part of our corporate worship gatherings. I wouldn't want to bind anyone's conscience on this issue, since I think its adiaphora, but I'm in favor of churches at least periodically confessing the faith verbally through recitation of the ancient creeds.
Steve Harmon has written on this topic in many places, most notably in his provocative book Towards Baptist Catholicity: Essays on Tradition and the Baptist Vision (Paternoster, 2006). More recently, Steve has written on this topic on his blog, Ecclesial Theology, in a post titled "Do Real Baptists Recite Creeds?" The post is condensed from a 2004 article by the same titled published in Baptists Today (see p. 27). He writes,
Baptists are right to resist … coercive use of either creeds or confessions, but we would be wrong to let this legitimate concern keep us from experiencing the benefits of the proper uses of the creeds. The Apostles' Creed and "Nicene" Creed are properly used as expressions of worship. They are not lists of doctrinal propositions to which assent is compelled; they are summaries of the biblical story of the Triune God, drawn from the language of the Bible itself. The creeds function as the Christian "pledge of allegiance." They declare the story to which we committed ourselves in baptism. Reciting the creeds thus regularly renews our baptismal pledges.

Reciting the creeds invites us afresh to locate our individual stories within the larger divine story that is made present to us in worship. Reciting the creeds impresses upon us again and again the overarching meaning of the Bible and so shapes our capacity for hearing and heeding what specific passages of Scripture have to say. Reciting the creeds invites us into solidarity with the saints gone before us who for two millennia have confessed this story with these same words. Reciting the creeds declares our solidarity with our sisters and brothers in Christ in other denominations who today embrace the story of the Triune God.
While I am not a card-carrying member of the "Bapto-Catholic" movement like Steve, I share with him and my other Bapto-Catholic friends the conviction that reciting creeds is an appropriate practice for Baptists in their corporate worship gatherings. Not necessary, but appropriate. From discussions in my classes at Southeastern Seminary, I get the impression that at least some of my students feel the same way.
I would be interested in hearing what readers think about the use of creeds in worship by Baptists and other low church, free church evangelicals.