Written by Nathan Finn, Posted in Book Review, History, Missions
Normally, I blog about a new issue of Themelios almost as soon as it comes out. Since the April 2013 issue came out this past week during my brief blogging hiatus, I'm just now mentioning it. The new issue includes feature articles from Eric Ortlund on "The Pastoral Implications of the Wise and Foolish Speech in the Book of Proverbs" and the second part of David Shaw's extended review essay of The Big Picture Story Bible and The Jesus Storybook Bible. Don Carson and Mike Ovey contribute their usual columns (Ovey's column on "colonial atheism" is a fascinating read). As always, Themelios also includes dozens of reviews of recent books in theology, biblical studies, ethics, missions, and historical theology.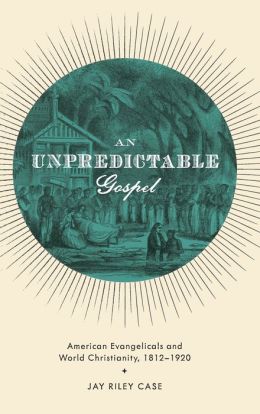 In this issue, I contributed two new book reviews. One is a short book note of the newest edition of Mark Noll's Turning Points: Decisive Moments in the History of Christianity, 3rd ed. (Baker Academic, 2012). The second is a critical review of Jay Riley Chase's recent monograph An Unpredictable Gospel: American Evangelicals and World Christianity, 1812–1920 (Oxford University Press, 2012). Let me cut to the chase: I really like this book. As I note in the conclusion to my review,
An Unpredictable Gospel is an important book that challenges faulty assumptions about cultural imperialism while also raising new questions about the nature of contextualization, the relationship between evangelism and social control, and the contours of intra-denominational debates about mission strategy at home and abroad. Highly recommended.
If, like me, you are interested in the topic of global evangelicalism, you should also check out two of the other reviews in this issue of Themelios. Emma Wild-Wood reviews Paul Borthwick's recent book Western Christians in Global Mission: What's the Role of the North American Church (IVP Academic, 2012). In the second review, Eric Zeller offers his thoughts on two important new study bibles: the ESV Global Study Bible (Crossway, 2012) and The Mission of God Study Bible (B&H Reference, 2012).